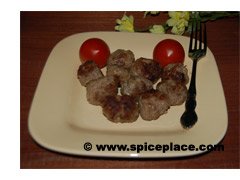 Try out these Greek seasoned meatballs if you want a change of taste in your daily meals. The flavor of the lamb and the citrus/mint/thyme seasoning of the McCormick Greek seasoning blend makes a delicious meatball. The hardest part we had in making this recipe was finding ground lamb. After going to 3 or 4 grocers that we thought would have ground lamb, we found it at a local Safeway store.
1 pound ground lamb
1/4 cup bread crumbs
1 egg, beaten
1/2 onion, chopped fine
1 1/2 tbsp McCormick Greek Seasoning
1 tbsp dried Parsley Flakes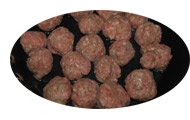 Prepare a place for setting meatballs on by placing wax paper on the plate.
Place the ground lamb in a large bowl.
Sprinkle the bread crumbs and chopped onions over top of the lamb.
Scramble egg and mix in the Greek seasoning and parsley flakes.
Pour the eggs over the lamb, and using your hands mix the lamb, bread crumbs, onion, and seasonings together for about a half a minute.
Take a bit of the lamb mixture, and form into 3/4 – 1″ meatballs by rubbing in the palms of your hands. Place formed meatballs on the plate. Repeat for all meatballs.
Place 1 tbsp canola oil in a 12″ skillet, and heat. Add meatballs.
Cover and cook meatballs for about five minutes, then flip and cook for another 5 minutes.
Remove cover, and flip meatballs to another side and cook until brown.
Continue to flip and cook until meatballs are cooked though and are brown.
Makes about 20 Greek Seasoned Meatballs. Serve wits Couscous or Greek Tomato-Potatoes.