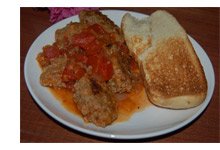 We're continuing to find delicious ways to use our newly found McCormick Greek Seasoning. This week we found that it has a wonderful affinity with lamb. While we've used Greek Seasoning with lamb chops, the flavor seems more pronounced to us when it was mixed in with the ground lamb meat. In this recipe for Lamb Sausages with Tomatoes, the flavor of the tomatoes adds a wonderful contrast to the lamb and seasoning resulting in a delight for the taste buds.
Recipe for Greek Seasoned Lamb Sausages with Tomato Sauce
1 pound ground lamb
1/4 cup Basmati Rice
1/2 cup finely diced onion
1 tsp McCormick Greek Seasoning
1 egg, beaten
2 tbsp grated orange peel
1/2 cup diced onion
1 can diced tomatoes
1 cup chicken broth
1/4 tsp McCormick Greek Seasoning
Combine the ground lamb, rice, diced onion, egg, and 1 1/2 tbsps orange peel in a small bowl. Mix well with hands to distribute rice and seasoning throughout the meat. Form into miniature sausage shapes about 3/4″ in diameter and 2 inches long. Heat 1 tbsp canola oil in a non-stick skillet, then add the sausages. Cook about 3 to 4 minutes, then turn and repeat until all sides are lightly browned.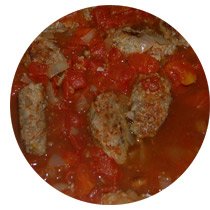 When turning the last time, add 1/2 cup diced onion. Cook the onion for 3 or 4 minutes, then add canned diced tomatoes, 1 cup chicken broth, and 1/2 tsp Greek Seasoning. Gently mix to blend the tomatoes with the broth but not break up the lamb sausages. Bring to a boil, reduce heat to medium, and simmer for 10 minutes to boil off some of the liquid and thicken the sauce. Stir and cover sausages with the sauce. Simmer for 5 minutes more. Use remaining orange peel as a garnish for each serving. Serve Greek Seasoned Lamb Sausages with a piece of toasted Italian roll to dip into and mop up the sauce. Makes 4 servings.