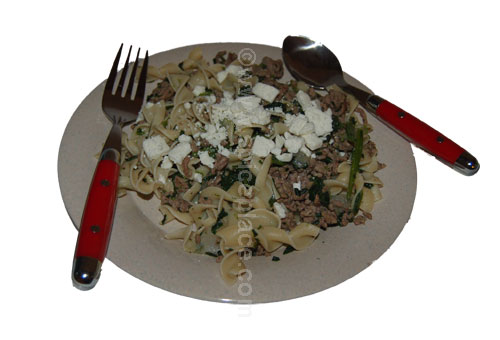 If you're looking for an easy to make meal for four, that has a Mediterranean taste, and flair of Greece then consider the following dish. It's made with ground lamb, spinach, onion, egg noodles and is flavored with McCormick Greek Seasoning. Some Feta cheese adds the final taste of Greece to the dish.
First start this dish by browning the ground lamb. At the same time heat 2 quarts of water to boiling in a 3 quart pan. For the ground lamb, I used store bought lamb from Safeway and there was a bit of fat in the pan after cooking. So what I do is soak up the fat with Viva paper towels, they're really absorbent. Just swish them around in the pan with the spatula. I had to use several towels and must have been unlucky in the package of ground lamb I choose.
When the lamb has browned:
Add 1 1/2 cups of egg noodles to the boiling water; these will cook for 7 to 8 minutes.
Then add the following to the skillet:
1/2 cup chopped onion
2-3 tsp McCormick Greek Seasoning
Sprinkle the seasoning evenly over the pan so the meat is flavored equally. Cook until the onion is clear.
Add 1 to 1 1/2 cups frozen chopped spinach leaves to the skillet, stir often to cook the spinach evenly.
After 2 to 3 minutes the spinach should be cooked, and if the timing is right your egg noodles will be ready to drain. Test by tasting one, and if done drain, add to the skillet and stir in well.
To serve, scoop out some of the mixture into a bowl or plate and top with some crumbled Feta cheese. If you like Greek cooking, you should be happy with this simple noodle dish. Cooking time is about 20 minutes total.