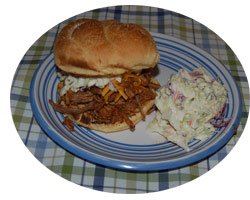 It's still dead of winter here on the East Coast, and we haven't barbecued in what seems like forever. With the deck covered by 6 inches of heavy frozen solid snow, we can't even consider firing up our grill. So it's times like these that making a barbecued pork on top of the stove come in handy. We guarantee that this is a great recipe and the hardest part is cutting up the pork. The rest of the time the pork is simply simmering on the stove, and when done cooking, the pork will shred with the touch of a fork.
5 pound boneless pork shoulder "Boston Butt" roast
1/2 cup white vinegar
1/4 tsp (or more) Tabasco Sauce
1 1/2 tbsp celery seed
1 tsp garlic juice
1 tsp onion juice
2 cups water
You need about 5 pounds of meat for this recipe, and if the store only has bone-in pork shoulder, then purchase about an 8 pound roast. It's not an easy task to cut the meat from a pork shoulder (or Boston Butt) roast, so I'd recommend finding a boneless roast.
Cut the roast into about 3/4 pound chunks. Lightly grease a large stock pot or dutch oven with olive oil. Toss in the pork, and cook on high, turning, until the pork browns on the outside, turn, and repeat a couple times. Don't worry about cooking the pork through, there's plenty of time for that coming up, what you want is to get some caramel color on the pork.
Once the pork butt is browned to your desire, add the water, vinegar, celery seed, garlic juice, onion juice, and Tabasco sauce. I like to use garlic and onion juice for this recipe because the flavor will blend into the pork and there are no pieces of onion or garlic in the barbecued pork. If you can't find onion or garlic juice, substitute with 1/2 tsp chopped garlic, and 1/4 cup finely diced onion. Bring the liquid to a boil, then cover and simmer for about 2 hours. Turn the meat over ever half hour so that the meat gets evenly flavored by the sauce. With a tight lid, and slow simmer, you shouldn't need to add any water, but if you see the pan getting dry, add a little water.
When the pork is done, it will rip to shreds with no effort at all when touched with a fork. Drain the pot into a collander, rip up the pork, and serve with a good barbecue sauce such as Staubs. Heat the barbecue sauce, then mix 1 or 1/2 tbsp of BBQ sauce with 1 1/2 cups of pulled pork.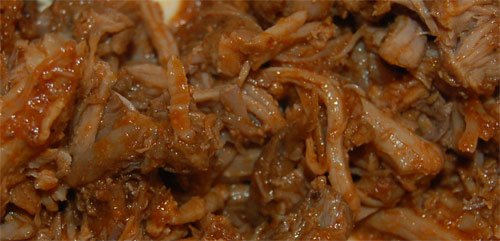 I like to serve my pulled pork sandwiches on toasted kaiser rolls topped with a little bit of shredded Cheddar cheese, and 1 to 2 tbsp of fresh made coleslaw*, and some coleslaw on the side. Exactly as pictured above.
*Make a quick delicious coleslaw with a package of Fresh ExpressTM Coleslaw Mix and Marie's Original Coleslaw Dressing, which you can find in the salad dressing aisle of the grocer. Mix the coleslaw with the dressing right after the pork BBQ mixture is set to simmer and refrigerate. The coleslaw will be perfectly flavored at the same time the pork BBQ is done.