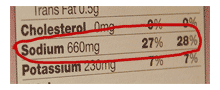 When we cook our meals we try to avoid using salt or MSG in our recipes. When making side dishes from the packaged foods that come in boxes or cans, the seasonings are all mixed together and it's almost impossible to cook without salt. By looking closely at the USDA Nutrition Facts label you'll see these packaged foods are all laden with salt – many of which contain more than 25% of the recommended daily value of sodium in a single serving.
So this post starts a series of easy to make replacements for commonly purchased packaged foods.
Refried Beans are one of those foods that many of us love to eat with our Mexican and Latin American meals yet many of us have no idea what is in the recipe. For years we've purchased our refried beans in a can at the grocer and simply reheated them in the microwave or on the stove top. After making our recipe for Refried Beans we found our recipe to be superior, has no fat, and no salt added.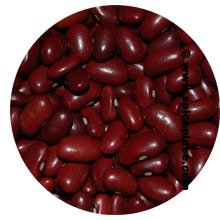 Refried Beans starts with Pinto Beans, a small red bean typical in Latin American cooking. We purchase ours at a Latin American Grocer, but if you can't find a Latin American Grocer near you, buy the red beans in the Mexican or Latin American section at your grocer.
Refried Beans Recipe
Measure out 1 cup of Pinto Beans, pick over them and remove any foreign items like stones and odd plant material. Place the beans in a 2 quart sauce pan, and add about 1 1/2 quarts of water. Place on the stove, cover, and bring to a boil. Reduce to a simmer, and let cook for 3 hours. Check every so often and add water if the pot is drying out.
Just before the beans are done, dice 1/2 onion very fine (1/8″ or so), and saute the onions in 1/2 tbsp of canola oil along with 1 tsp chopped garlic. Cook until tender but not browned.
Drain the beans using a strainer, and place the pinto beans in a 2 quart mixing bowl. Sprinkle the cooked onion & garlic over the top of the cooked beans, and add:
1 tsp ground cumin
1 tsp dark chili powder
Mash the pinto beans and seasonings using an electric hand mixer until the beans are at a consistency that you like. We like our Refried Beans to be coarse and have a little crunchiness to them. Some may want their Refried Beans mashed like the beans that comes out of the canned Refried Beans. Either way, you'll find this a delicious recipe and a much better and healthier recipe than the canned variety of Refried Beans.