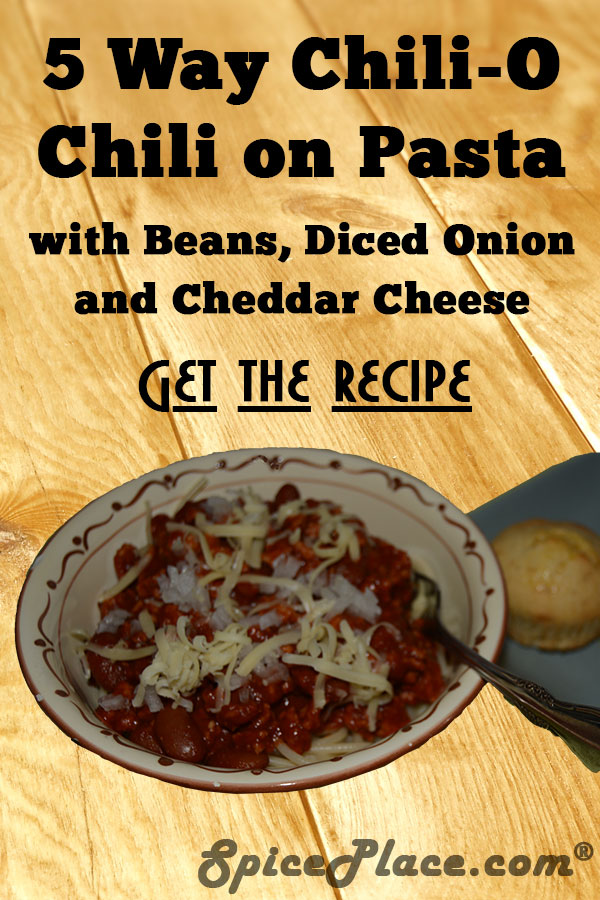 This is our recipe for a Five Way Chili Bowl. We've been making chili this way for a long, long time. And while we've tried many seasoning blends for making chili, we've found the French's Chili-O (which is also sold as the identical product as Durkee Chili Pronto), makes an excellent tasting chili very quickly.
This recipe is called Five Way Chili because of it's five main layers at serving time: 1) Your favorite pasta, 2) chili, 3) beans, 4) diced onion and 5) shredded Cheddar cheese. You could make it Six Way by topping with some hot sauce.
So you can make recipe from start to finish in, say 20 minutes, 29 minutes tops. First, start your oven at 400° F. Then mix up a prepared cornbread mix. We like to pour the cornbread into cupcake liners inserted into a muffin pan. This makes cleaning up the pan easier and helps hold together any leftover cornbread for a snack later on. Then toss the cornbread in the oven and bake according to the package instructions.
Next, start making the Chili. You can use your own recipe, and skip ahead to the assembly instructions or make our recipe for Chili-O as described here. Chili-O makes making Chili quick, easy and as I already said, is our go to chili seasoning. You can find Chili-O here at Spiceplace.com by following the link in the ingredients list.
Making Chili with French's Chili-O (also known as Durkee Chili Pronto)
Ingredients List
1/3 cup French's Chili-O Seasoning
1lb lean ground beef, chicken or turkey
1 (14-16oz) can diced tomatoes, undrained
1 (14-16oz) can red kidney beans, undrained
Package of cornbread mix
Preparation Instructions
In a large non-stick skillet brown the ground beef. Drain fat.
Meanwhile, prepare your favorite pasta. We use spaghetti or linguine pasta.
Stir in French's Chili-O Seasoning. Add tomatoes, and kidney beans. Mix well.
Bring to boil while stirring frequently.
Reduce heat, and simmer for 10 minutes. Stir occasionally.
Assembly Instructions
Add pasta to a bowl or on a plate. Don't use too much pasta as it's best with the chili mixed in well. Now add enough chili to mix together and coat pasta well. If you followed our instructions above, the beans are in the chili so you have 3 Way Chili already. Now it's time to add the last two toppings, some freshly diced onion and some shredded Cheddar cheese. And you have Five Way Chili and it's time to enjoy. Serve with one or two cornbread muffins. Note this recipe would work well with elbows (ala Chili-Mac), egg noodles or penne. We've tried many and have settled on the spaghetti.
French'sTM is the registered trademark of The French's Food Company, LLC