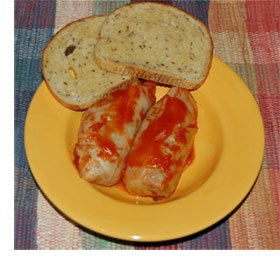 This recipe is a bit of work, but the rewards are well worth the effort. We've made these cabbage rolls for years, and they're always well received at the dining room table. Cabbage rolls require slow cooking for the flavors to blend, so they're cooked in a slow oven. Some folks cook their cabbage rolls in a pot on the stove, but we find our cabbage rolls stay together better if we bake them in a covered baking pan. These cabbage rolls are really good on a cold winter Sunday afternoon served with buttered, toasted rye bread as we have in the picture.
Recipe for Stuffed Cabbage Rolls also known as Blind Pigeons
1 large head of cabbage
1 pound lean ground beef
1 pound lean ground pork
1 large sweet onion
1 tsp Nina chopped garlic (or 2 cloves garlic chopped)
salt and pepper to taste
1 cup cooked basmati rice
1 large (28 oz) can tomato juice
8 to 10 slices of bacon
To precook the cabbage, bring a large pot of water to a boil.
While the pot is heating, core the head of cabbage. Place the head of cabbage in the boiling water and cook just until you can start to peel the cabbage leaves off.
Peel the leaves from the head of cabbage, and place the cooked cabbage leaves on a plate.
Chop the onion finely.
Cook the lean ground beef and lean ground pork along with chopped onions. Add
salt and pepper to taste. Cook until onions are tender and beef and pork are cooked
thoroughly.
In the meantime cook rice according to package directions.
Combine the cooked meat mixture and the cooked rice.
Place strips of bacon evenly spaced in large roasting pan.
Take a large cabbage leaf and cut a "v" out of the bottom of the leaf to remove the tough core section.
Place a large spoonful of the meat and rice mixture towards the top and center of the leaf.
To roll the cabbage rolls take the bottom edge of the leaf and fold it towards the center over the meat and rice mixture. Take the side of the cabbage leaf and tuck it under the meat mixture. Take the top and fold it down over the center of leaf. Take the bottom of leaf and fold it towards the center of the leaf. Roll the leaf so the open edge is under the cabbage roll.
Place prepared cabbage rolls on top of bacon slices in roasting pan. Repeat until all meat mixture is finished.
Pour tomato juice over prepared cabbage rolls. Place extra cabbage leaves
over the top of the prepared cabbage rolls. This keeps the moisture in.
Slow cook the cabbage rolls in a 300-325° F. oven for 1 to 2 hours*.
Serve with toasted buttered rye bread.
*Cook longer to allow the flavors to blend. Since everything is cooked, the baking time is to allow seasonings to mix together.