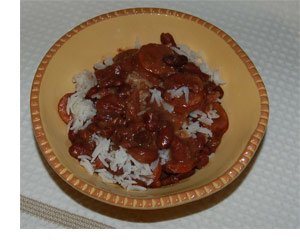 It was just Mardi Gras in New Orleans and we were thinking about what we could make for a meal to celebrate the season and revival of New Orleans. One of our favorite Cajun meals is Red Beans and Rice. Outside New Orleans, Red Beans and Rice is often served as a side dish. But, it's really a well rounded main dish that's high in fiber and suitable as a single dish meal.
Our recipe for Red Beans and Rice will feed about four people. Now, this is a homemade Red Beans and Rice recipe, so it takes a bit of time for the beans to cook. So you need to start cooking this meal early. And since it's homemade, there's not artificial preservative or extra salt added.
Recipe for Red Beans and Rice
1 pound dried kidney beans
1 tbsp canola oil
1 green pepper, chopped
1 medium onion, chopped
2 cloves garlic, minced (or 1 tsp chopped garlic)
1 smoked ham hock
1/2 pound Andouille Sausage
1/2 tsp marjoram leaf
1 tbsp sugar
1 can of good beer such as Guiness
Fresh ground black pepper
Cook white (or Basmati) rice
1/4 cup chopped green onion
Clean the beans and remove any foreign ingredients such as pebbles.
Heat the canola oil in a large dutch oven, add chopped onion, chopped green pepper, and garlic. Cook, stirring often, about 4 minutes.
Add ham hock, red kidney beans, marjoram, bay leaves, sugar, and beer.
Top with water to cover beans by about 2 inches.
Cover, and bring to a boil, then reduce heat to a simmer, and cook about 3 hours. Add additional water if needed.
When beans are tender, take out the ham hock, and chop up the meat from the ham hock into pieces about 1/2 inch in size. Place the meat back into the pot, and discard the bones.
Cook the sausage in a separate pan for about 10 minutes, turning to cook through. Then remove the sausage, chop the sausage into 3/8″ slices, and add to the pot.
Cook the beans another 30 minutes so the sausage flavor blends into the beans.
Remove from heat, and let cool about 10 minutes.
Serve with white rice and chopped green onions as a garnish.