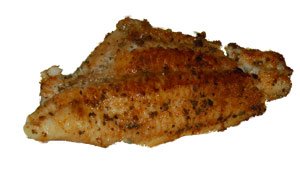 Cajun seasoned foods are among the most tastiest foods we eat. The strong blend of spices, and rich color in Cajun Seasonings mix well with many foods, most notable of which are seafood (including shrimp, catfish, crawfish) and chicken. Last night we decided to make Cajun Seasoned catfish, a standard Louisana entree.
We carry two different Cajun Seasonings in our store, one from McCormick Spices, and the other from Tones Brothers. The McCormick Cajun Seasoning is a little more coarse then the Tones Louisana Style Cajun Seasoning, and both provide delicious authentic Cajun flavor. We made our Cajun Catfish Recipe using the McCormick Cajun Seasoning Blend, and you could just as well substitute the Tones Louisana Cajun Seasoning.
Cajun Seasoned Catfish must be one of the simplest main dishes you can make. All you need to do is season the catfish and then cook. We sprinkle a little bit of Cajun Seasoning on a paper plate, then dip a catfish fillet in the Cajun Seasoning, flip the catfish fillet over, and repeat. Cajun Seasoning is a seasoning with a bit of heat, so if you feel you've seasoned too much on a single catfish fillet, run a second catfish on the overseasoned first catfish to pick up the seasoning. Or if you really overseasoned, wash the Cajun Seasoning completely off with fresh water, pat the catfish fillet dry, and start over. Speaking of the proper amount of seasoning, we feel 1/2 – 3/4 tsp of Cajun Seasoning per fillet is the right amount and has a little zing. Serve with Red Beans and Rice, or Cheesy Grits.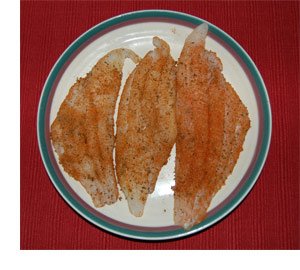 Cajun Seasoned Catfish Recipe
Cleaned Catfish Fillets
1/2 – 3/4 tsp Cajun Seasoning (per catfish fillet)
Sprinkle Cajun Seasoning evenly over both sides of Catfish Fillet
Cook in a lightly oiled non-stick skillet about 3 – 4 minutes per side, depending on thickness of catfish fillet. Don't over cook.