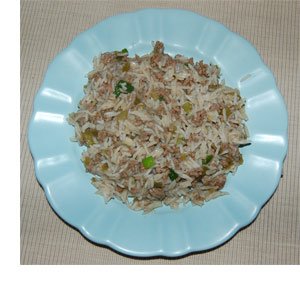 We started out today planning to prepare Cajun Dirty Rice but didn't have many of the ingredients on hand so we decided to improvise and make something similar. This recipe for Cajun Ground Beef and Rice is probably more healthy since it uses lean ground beef instead of chicken livers and gizzards that's in Dirty Rice. In the end we came up with a great meal, so we're sharing it here. The principle seasonings in this dish are Cajun Seasoning and Tabasco Sauce but the celery, onion, and green pepper certainly contibute to the great taste.
Cajun Ground Beef and Rice Recipe
Precook the basmati rice
This recipe requires precooked basmati rice. We cook this first and refrigerate it so that the basmati rice stays together when combined with the Cajun Beef during the final steps of the recipe.
1 cup uncooked basmati rice
1 can chicken broth
A standard can of prepared chicken broth contains about 2 cups of broth. Pour into a sauce pan, and bring to a boil.
Add 1 cup basmati rice, and return to boil.
Cover and cook about 12-14 minutes until all broth has been absorbed by the basmati rice.
Remove from heat, allow to cool, and refrigerate.
1 pound lean ground beef
2 tsp chopped garlic or about 4 cloves garlic, minced
1 green pepper, chopped fine
1 stalk celery, chopped fine
1 onion, chopped fine
1 1/2 tsp McCormick Cajun Seasoning
2 cups chicken broth
1 tsp Tabasco Sauce
1/2 tsp fresh ground black pepper
1 scallion, chopped fine
Place 1 tbsp canola or olive oil in a large non-stick skillet, along with 1 pound lean ground beef. Cook over medium heat, stirring often, until beef is cooked through.
Add diced onion, diced pepper, chopped garlic, and chopped celery. Cook, stirring frequently for 3 – 5 minutes or until vegetables begin to turn translucent.
Add Cajun Seasoning, chicken broth, and Tabasco Sauce. Stir well, then cook 30 – 45 minutes, stirring often, until broth thickens.
Add fresh ground pepper, chopped scallion, along with basmati rice. Mix carefully until rice separates into individual grains, and then cook until rice warms.
Enjoy. Add more Cajun Seasoning at the table as desired. This isn not a hot seasoned recipe as prepared.