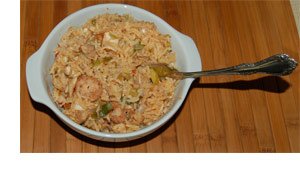 On weekends, we try to take advantage of having the time around the house to make a slow cooking recipe. Often those are recipes for soups, stews, Yankee Pot Roast, or standing rib roasts. Yesterday we decided to make a light Chicken Jumbalaya recipe.
Many Jumbalaya recipes are loaded with fat from bacon and sausage. Often the recipes use large quantities of these fats, such as 1/2 cup bacon fat, or 1/2 cup sausage drippings. We try to avoid fats in meals, and especially the saturated fats found in bacon and sausages. So our Chicken Jumbalaya Recipe uses minimal oils, and a light chicken andouille sausage. The meats in our jumbalaya are only chicken and chicken sausage. The resulting meal was excellent, but you can add shrimp to the recipe to increase the flavor.
One of the reasons our jumbalaya was tasty without seafood was our choice of chicken meat. We used chicken thighs, pre-cooked them in a little garlic, and allowed them to cool so we could remove the chicken meat from the bones. That all takes a little time, so you need to cook the chicken thighs at least 2 hours before starting the recipe for Chicken Jumbalaya.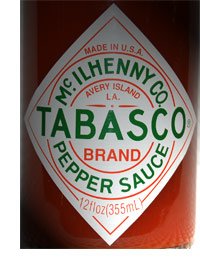 This is a made from scratch jumbalaya recipe, and the only short cut we may have taken is the use of Nina Chopped Garlic instead of chopping garlic cloves ourselves. We use Nina chopped garlic all of the time because you simply measure the right amount, and you're done. A half teaspoon of chopped garlic is the equivalent to a clove of garlic. Nina Chopped Garlic is chopped finer then the way we usually chop garlic, so the garlic flavor is more pronounced then what we get from our chopping of fresh garlic cloves. If you try it, you'll see what we're talking about.
Chicken Jumbalaya Recipe
5 chicken thighs
1/2 – 1 tsp chopped garlic (about 1 -2 cloves fresh garlic)
2 stalks celery, finely chopped
1 green pepper, finely chopped
1 onion, finely diced
1 cubanelle pepper, finely chopped
4 or 5 Amy's Chicken Andouille sausages
1 can whole tomatoes
3 cups low sodium chicken broth
1 1/2 tsp chopped garlic
2 tsp McCormick Cajun Seasoning
1 tsp Tabasco Sauce
1 1/2 cups basmati rice (or white rice)
A few hours before planning to start cooking the Jumbalaya, cook the chicken thighs in 1 tbsp canola oil, along with 1/2 to 1 tsp chopped garlic. Turn frequently, and cook for 10-12 minutes, or until thighs are cooked through.
Remove chicken thighs from pan to a plate covered with a couple layers of paper towels. Let drain, and cool 10 minutes, then place thighs in a reclosable plastic bag, and place in refrigerator.
After chicken thighs have cooled to refrigerator temperature, about 1 1/2 hours, remove the meat from the thighs and discard bones. Cut the chicken meat up into 3/8 to 1/2 pieces.
Add 1 tbsp canola oil to a large saucepan. Cook 1 1/2 tsp chopped garlic, diced onion, green pepper, cubanelle pepper, and celery over medium heat for 5-8 minutes until transparent. Don't allow the garlic to burn.
Cut the chicken andouille sausage into 1/4 inch slices, and add to the pan. Cook for 3 -4 minutes, stirring often.
Add the cajun seasoning, Tabasco Sauce, can of tomatoes, and 3 cups chicken broth. Bring to a boil, and simmer covered for about 10 minutes.
Stir in basmati rice, and cook for another 10-12 minutes. Check after 8 minutes and add additional water if needed. If using regular white rice, cook for 20-24 minutes checking water at 15 and 20 minutes.