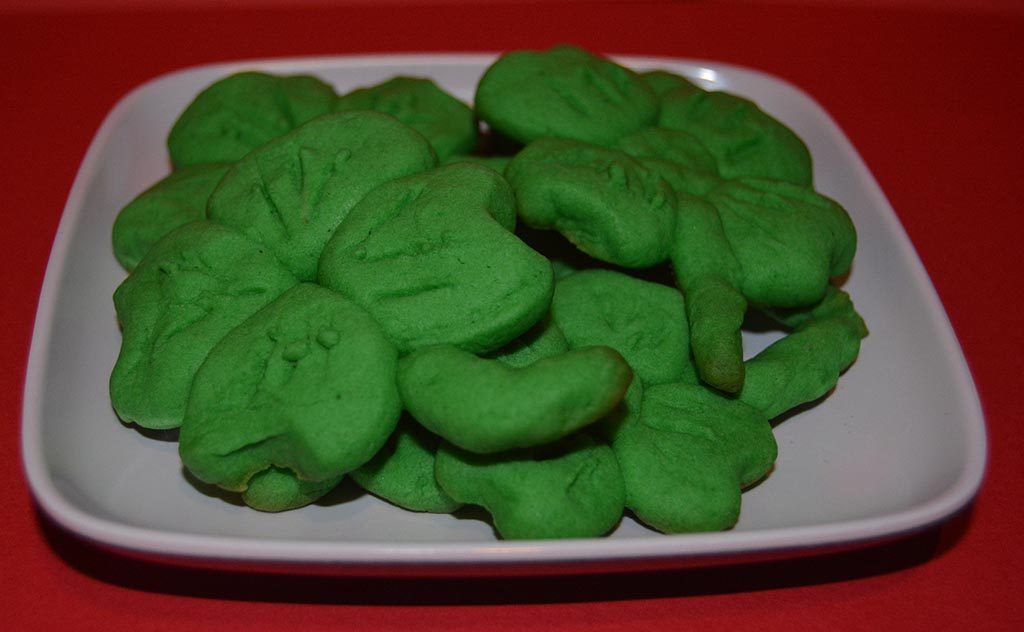 Peppermint Patty Lucky Clover Cookies
Hello folks, with these Luck o' the Irish cookies you can make a Grand St. Patrick's Day surprise for the whole family. They have a wonderful minty flavor from the Peppermint Extract so they are 'Peppermint Patty' Cookies. Get it?
They are made without baking soda so they are like pressed cookies. Yet they're not hard like pressed cookies and have a mouth feel of an after dinner mint when fresh.
Ingredients:
1 cup Unsalted Butter (softened)
1 cup Sifted Confectioners Sugar
1 Egg
1 to 2 teaspoons McCormick Pure Peppermint Extract
2 1/2 cups Flour
1 teaspoon Salt
1 1/2 teaspoons McCormick Green Food Coloring
Instructions:
Heat oven to 375° F.
Mix butter, sugar, egg, and McCormick Pure Peppermint Extract thoroughly.
Stir in flour, salt, and McCormick Green Food Coloring.
Thoroughly mix all ingredients.
To shape Lucky Clovers, roll 4 small balls (1/4 teaspoon of dough).
Place 4 balls forming a square on parchment paper lined baking sheet.
Flatten balls with your fingers into Lucky Clover shapes leaving a space between balls. You can place a small flattened ball in the center of the four flattened balls.
Take a small amount of dough and shape into a stem and place the stem on your Lucky Clover.
Complete all cookies one at a time or the tiny balls may become dry and crack when pressed.
Bake for 9 minutes until just some browning around edges.
Makes 9 dozen Peppermint Patty Lucky Clover Cookies.