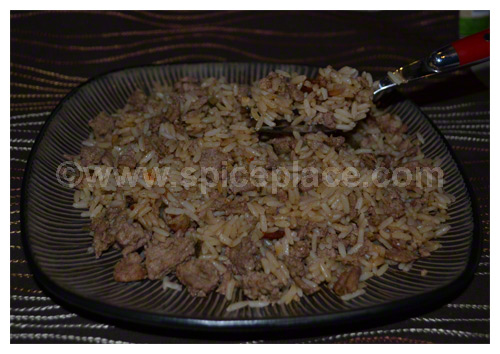 Recently, Zatarain's introduced a line of lower sodium, No MSG added rice mixes in their foodservice line. Today we're featuring Zatarain's Dirty Rice Mix, 50% lower sodium. Click here to see the Nutrition Facts for Zatarain's Dirty Rice Mix. Three great things about this recipe are 1) it's a one pan meal so there's less cleanup, 2) there's virutally nothing to cut up, no prep time is need, and it's ready in about 30 minutes, and 3) it's flavorful, low in sodium and when cooked with lean ground turkey, it's low in fat.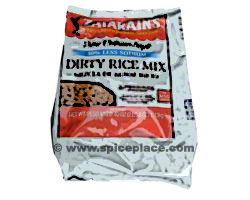 Ingredients
1 pound lean ground turkey
4 cups water
2 cups Zatarain's Dirty Rice Mix, 50% lower sodium
Preparing Zatarain's Dirty Rice Mix on the Stove
Brown the lean ground turkey in a very large skillet (12 to 14 inch wide) – remember this is a one pan meal. Break up any chunks with the end of the spatula while cooking and turning.
Add 4 cups of water and bring to a boil. Meanwhile, follow the next step.
The Zatarain's Foodservice Mix is intended to make one box steam table pan of Dirty Rice. That's a lot rice for a home setting, so we have to make an adjustment. First, shake the bag well, then pour into a large enough bowl to hold the package ingredients and have some extra space to allow you to mix. We found a 3 quart metal bowl works well. Mix the seasonings into the rice mixture with a tablespoon for 20 to 30 seconds (until well blended).
Measure 2 cups of the Zatarain's Dirty Rice Mix and add to pan. Mix the rice into the pan evenly. Cover. Return to a boil, reduce heat to a simmer and cook for 20 to 25 minutes, or until all water is absorbed. Remove from heat, let sit covered for 5 minutes. Remove lid, stir to fluff. Serve.
Makes about Fifteen 1/2 cup servings. It might be worth considering cutting this recipe in Half:
1/2 pound lean ground turkey
2 cups water
1 cup Zatarain's Ditry Rice Mix
and a smaller skillet.