Tags:
recipe,
crab cake,
Old Bay Seasoning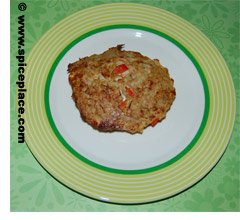 We have a few crab cake recipes on our web site. On our Old Bay Crab Cake Classic page are links to many of our favorite crab cake recipes.
Our absolute favorite is the crab cake made with Old Bay Crab Cake Classic. We enjoy this crab cake for two reasons. First and foremost because it absolutely tastes great. Second, because it's easy to make. Mix the seasoning with crab meat, and a little mayonnaise, then cook. It's that easy.
But sometimes we're looking for a change of pace and so last night we made Delmarva Crab Cakes which you can find a link to on the Old Bay Crab Cake Classic page. This recipe is a little different then most crab cake recipes because it uses bell pepper in the ingredients. We chose to use red bell peppers since that's what we had on hand. Note that the Delmarva Crab Cake recipe calls for using 2 pounds of crab meat, so if you are like us and only use one container of crab meat, you'll need to cut quantities in half.
Our Delmarva Crab Cake recipe made a delicious set of crab cakes. We found we needed to broil them a little longer then the recipe called for. Maybe 12 minutes to the first side and 4 minutes to the second.
We have one other crab cake recipe worth sharing and it's the Old Bay Crab Cake Recipe that is essentially the the same tasting crab cake as you'll get from making the crab cakes with Old Bay Crab Cake Classic, except you do the labor and break up the bread pieces. It's an excellent crab cake, no doubt about it.