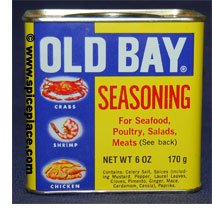 Old Bay Seasoning has been a favorite in the state of Maryland for decades. Ever since it's development in late 30s, many have been using it to enhance things from crabs to hamburgers. While the seasoning used to only be enjoyed by Chesapeake Bay residents, its mass production and popularity have allowed it to spread across the country. However, it will always be most popular in Maryland, famous for its crabs, but especially Baltimore, where crabs are eaten most frequently.
Back in 1939, a German immigrant named Gustav Brunn came to America, with the goal of starting a famous spice business. It was him who developed Old Bay seasoning with a primitive spice-grinder and a few basic ingredients. Because he was in Baltimore, and crabs were plentiful, people quickly took to his unique brand of seasoning, and Brunn got to live the American dream. He even named the seasoning after an old steamship line that served passengers and moved cargo on the Chesapeake Bay (Old Bay). It's been over sixty years, and Brunn's seasoning still enjoys moderate fame. Unbeknownst to many people, Brunn was one of the many Jews to escape from Germany after Kristallnacht. However, little else is known about the man who invented Old Bay.
Back when Gustav Brunn created Old Bay Seasoning, crabs were so plentiful in the Chesapeake Bay that bars often offered crabs for free, and seasoned with salty seasonings in order to sell more beer to the patrons. Old Bay is just one of these bar seafood seasonings, and is the seasoning that has survived the test of time.
Of course, Gustav Brunn does not make Old Bay Seasoning anymore. His company, The Old Bay Company was sold, and the company which purchased the rights to Old Bay is McCormick & Company [McCormick also a Baltimore, Maryland based spice company], which now manufacturers Old Bay and many variations of it. McCormick sells Old Bay across the nation through it's distribution channels and has transformed a regional taste into a national product, almost certainly generating millions of dollars a year through their ventures. Besides the classic "Old Bay" seasoning which McCormick markets, the company also produces varieties such as "Old Bay with Lemon and Herb", "Old Bay with Garlic and Herb", "Old Bay Crab Cake Classic", and many more. It's for certain that McCormick will be here for a long time, perhaps making even new kinds of Old Bay, with new and possibly exotic flavors.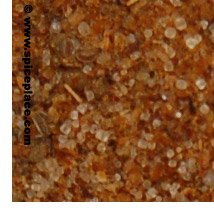 What exactly is in Old Bay seasoning? It is a mixture of different herbs and spices; it contains a multitude of ingredients. If one doesn't want to buy Old Bay seasoning, they can make it themselves! Old Bay contains mustard seeds, celery seeds, peppercorns, and much more. An official ingredient list for Old Bay seasoning follows:
Celery seeds
Salt
Mustard seeds
Whole black peppercorns
Bay leaves (Laurel)
Whole cloves
Dried Red Pepper (Pimento)
Ginger
Mace (the outer casing of the Nutmeg seed)
Whole Cardamom
Cassia
Sweet Hungarian paprika




As the ingredients list shows, it is quite a tasteful and flavorful seasoning. Recipes for making Old Bay Seasoning at home can be found on the Internet, and many people have changed the recipe to customize it just for them.
Old Bay Seasoning is used for more than just crabs, much more. While as we've said Old Bay was developed for serving crabs in the bars of Baltimore, people put it on basically anything, such as popcorn (it would be hard to get the seasoning into a movie theatre though, ha), eggs, salads, fries, chips, hamburgers, other seafood, and more. It really can be used on anything, and there are even people who probably put it on pancakes in place of maple syrup! Of course, the majority of people use Old Bay to season their crabs, and other seafood, which is what it will always be predominantly used for. Old Bay not only brings out the full taste of crabs, but adds additional flavor to the dish. And with the right combination with other seafood seasonings, crabs can taste perfect.
Old Bay isn't the only seafood seasoning, there are several other pretty famous ones. Another great seasoning is Nantucket Rub, which is used mainly for fish, but can also be used on meats such as chicken, and even on breads. The seasoning contains garlic, lemon zest, peppercorns, tarragon, and dill. It's is named after how it is used; it is rubbed onto the food. Another fine brand is Zatarain [also produced by McCormick & Co.], which has produced many different kinds of seasonings. Most of the seasonings McCormick produces under the Zatarain line are meant to be used on seafood, and some are to be used exclusively on certain fish, such as shrimp. The Zatarain also includes products other than seasonings, and it is famous all over the United States. Another "Rub" seasoning is Bayou Rub, Cajun Seasoning, and Red beans & Rice. The Zatarain's Cajun seasoning is used for blackening different meats, mainly poultry and seafood. It contains garlic, paprika, onion, black and red pepper, thyme, oregano, and lemon peel. When mixed with other seasonings, the result can be quite delicious.
Here is a recipe for a Maryland Crab Cake, which uses Old Bay Seasoning. The source of the recipe can be found here: https://www.spiceplace.com/best_maryland_crab_cake.php
1 lb fresh jumbo lump crabmeat
1 egg
1 tsp Worcestershire sauce
6 tsp real mayonnaise
1 1/2 tsp prepared mustard
1 tbsp chopped fresh parsley
7 tsp King Arthur all-purpose flour
1 tbsp Old Bay Seasoning
1. Mix all ingredients except the lump crabmeat.
2. Carefully pick through the crabmeat and remove any remaining shell and cartilage keeping as many lumps intact as possible
3. In a large bowl, gently mix crab and mayonnaise mixture. Shape into 5 or 6 cakes. Place shaped cakes on a cookie sheet covered with non-stick aluminum foil.
4. Broil about 10 minutes until tops begin to brown. Turn and broil other side 2 – 3 minutes.
5. Serve with tarter sauce.