Wonderful Pistachio Kernels 1.5lbs 907g
Wonderful shelled pistachios. With no shells it's easier than ever to grab a healthy snack or add a little crunch to salads, desserts or your favorite recipes.
Pistachios are high in fiber and many other vitamins and minerals. So pistachios make a healthy snack.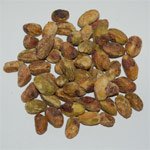 Take Sunkist Pistachios anywhere, anytime for a great tasting snack.
Ingredients: Pistachios, Salt.

Net Weight: 1.5lbs 907g
Pistachios are the most nutrient dense nut.
Pistachio nuts are one of the lowest calorie and lowest fat nuts.
Pistachios are one of the highest fiber nuts.
Pistachios are one of the highest antioxidant nuts*.
*Natural polyphenols.
The Pistachio is the highest phytosterol. nut
Heart Healthy
Scientific evidence suggests but does not prove that eating 1.5oz of most nuts, such as pistachios, as part of a diet low in saturated fat and cholesterol may reduce the risk of heart disease. See nutrition facts below for fat content.
Wonderful Pistachios are grown using environmentally-friendly farming methods in the United States.
Packed by Paramount Farms, Inc., Los Angeles, CA 90064 for Cal-Pure Pistachios Inc. Product of USA.
Wonderful® is a registered trademark of Paramount Farms Inc.
Wonderful Shelled Pistachio Nuts
Nutrition Facts
Serving Size: 30g (about 1/4 cup)
Servings Per Container: about 30
Amount Per Serving
Calories 170
Calories From Fat 120
% Daily Value*
Total Fat 14g
22%
Saturated Fat 1.5g
8%
Trans Fat 0g
Polyunsaturated Fat 4.0g
Monosaturated Fat 7.0g
Cholesterol 0mg
0%
Sodium 160mg
7%
Potassium 310mg
9%
Total Carb 8g
3%
Dietary Fiber 3g
12%
Sugars 2g
Protein 6g

Vitamin A 2%
Calcium 4%
Thiamin (B1) 15%
Phosphorus 15%
Copper 20%

Vitamin C 0%
Iron 6%
Vitamin B6 20%
Magnesium 10%
Manganese 20%

*Percent Daily Values (DV) are based on a 2,000
calorie daily diet. Your daily values may be higher
or lower based on your calorie needs.
Wonderful Item Code:
91179
Product Ingredient Lists and Nutrition Facts, when provided, are for your convenience. We at Spice Place make every effort to insure accuracy of the ingredients listed. However, because manufacturers may change formulations, persons with food allergies should always check actual package label.