Tones Cilantro 4oz 114g
Tones Cilantro is the leaf of a hardy herb, Coriandrum sativum, the seed of which is coriander seed. The seed and the leaves have decidedly different tastes and are used in quite different foods. Coriander Seed is one of the principle ingredients in Curry Powder.
Coriander Leaves are known in the US as Cilantro Leaves. The name Cilantro comes from the Spanish name for the Coriander plant. Cilantro should always be added to cooked foods at the end of cooking, as heat will destroy the flavor.
Cilantro Leaves are used in Asian cooking, as well as in Mexican foods such as Spanish rice, salsas and guacamole. It's taste is similar to parsley, but has a little more tang to it.
Cilantro Leaves are also known as Chinese Parsley. Cilantro is commonly used in salsa (where it can be seen as the green leaves), and is the green leaf found in the Chipotle's rice dish. Cilantro is a versatile herb, and can be adapted to any recipe that calls for fresh parsley. ... [Read more about Cilantro]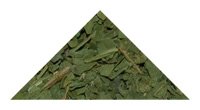 This is a large foodservice package container of dried Cilantro Leaves.
Ingredients: Dried Cilantro Leaves

Net Weight: 4oz 114g
Tiered Product Pricing
Quantity
Description
Price
Each
Unit Price
$12.22USD
6
6 or More
$11.87USD
24
24 or More
$11.52USD
Tones Cilantro
Nutrition Facts
Serving Size: 1/4 tsp 0.2g
Servings Per Container: about 567
Amount Per Serving
Calories 0
Calories From Fat 0
% Daily Value*
Total Fat 0g
0%
Sodium 0mg
0%
Total Carb 0g
0%
Protein 0g
*Percent Daily Values (DV) are based on a 2,000
calorie daily diet. Your daily values may be higher
or lower based on your calorie needs.
Product Ingredient Lists and Nutrition Facts, when provided, are for your convenience. We at Spice Place make every effort to insure accuracy of the ingredients listed. However, because manufacturers may change formulations, persons with food allergies should always check actual package label.