Johnny's Garlic Spread and Seasoning
Mediterranean Garlic Taste
May be substituted for Garlic in cooking recipes.
Try adding Johnny's Garlic Spread to seafood dishes, mashed potatoes, or vegetables.
Sprinkle dry mix of Johnny's Garlic Spread over meat, poultry, pasta, spaghetti, pizza or tossed salad.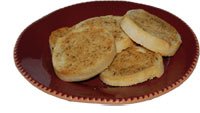 Ingredients: Granulated Garlic, Parmesean Cheese (Cultured Skim Milk, Salt, and Enzymes, Micro Crystalline Cellulose used for anti-caking), Salt, L-Glumatic Acid, Oregano, Basil, Parsley, Silicon Dioxide (Anticaking agent).
Sodium per 1/4 tsp 1g serving: 75mg (4% DV)
Contains about 510 1/4 tsp 1g servings
Johnny'sTM is a registered trademark of Johnny's Fine Foods.