Crystal Hot Sauce 3 Pack 12oz Bottles
Crystal Hot Sauce is the pride of New Orleans. Crystal Hot Sauce is a hot sauce second to none. Made with fresh cayenne peppers ground up to give you that special taste. Use Crystal Hot Sauce when cooking, spice up your dip, or over your favorite foods. Crystal Hot Sauce Crystal Hot Sauce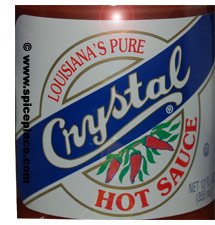 Ingredients: Aged Red Cayenne Peppers, Distilled Vinegar, Salt
Crystal Hot Sauce
Nutrition Facts
71 servings per container

Serving Size:

1 teaspoon (5 mL)

Amount Per Serving
Calories
0
Calories From Fat: 0

% Daily Value*

Total Fat 0g
0%

Sodium

135mg

6%

Total Carb

0g

0%

Protein

0g
*Percent Daily Values (DV) are based on a 2,000
calorie daily diet. Your daily values may be higher
or lower based on your calorie needs.
Product Ingredient Lists and Nutrition Facts, when provided, are for your convenience. We at Spice Place make every effort to insure accuracy of the ingredients listed. However, because manufacturers may change formulations, persons with food allergies should always check actual package label.