Heinz Ketchup Portion Packs 1000 x 5/16oz Packets
Bulk carton containing 1,000 individual portion packs of famous Heinz ketchup - The leader of the Packets!
World Famous Heinz Ketchup is the favorite ketchup of many people. It's the number one brand of ketchup. Use portion packs for picnics, parties, restaurants, food stands and food carts. They're individually sealed, stay clean and sanitary so there is no messy cleanup of containers.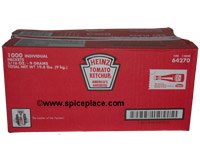 Ingredients: Tomato Concentrate Made From Red Ripe Tomatoes, Distilled Vinegar, High Fructose Corn Syrup, Salt, Spice, Onion Powder, Natural Flavoring.

Net Weight: 19.8 lbs 9 kg
Tiered Product Pricing
Quantity
Description
Price
Each
Unit Price
$36.99USD
6
6 or More
$35.17USD
Made in USA by Heinz North America
Heinz® is a registered trademark of H. J. Heinz Company, Pittsburgh, PA 15222
Heinz Ketchup Packets
Nutrition Facts
Serving Size: 1 packet (9g)
Servings Per Container: 1000
Amount Per Serving
Calories 10
Calories From Fat 0
% Daily Value*
Total Fat 0g
0%
Sodium 100mg
4%
Total Carb 3g
0%
Dietary Fiber 0g
0%
Sugars 0g
Protein 0g
*Percent Daily Values (DV) are based on a 2,000
calorie daily diet. Your daily values may be higher
or lower based on your calorie needs.
Product Ingredient Lists and Nutrition Facts, when provided, are for your convenience. We at Spice Place make every effort to insure accuracy of the ingredients listed. However, because manufacturers may change formulations, persons with food allergies should always check actual package label.