McCormick Perfect Pinch Zesty Pepper Seasoning 500 x 0.02 oz Pkt
McCormick Zesty Pepper Salt Free Seasoning Blend in individual serving packets. McCormick Perfect Pinch® Zesty Lemon Pepper Salt Free Seasoning Blend has a tangy citrus lemon flavor blended with black pepper and other spices. Excellent with fish, seafood, chicken and pork. This carton of Perfect Pinch Zesty Lemon Pepper contains 500 convenient packets that you can take with you, use to control portion size, or use as samples for others interested in reducing salt in their diet.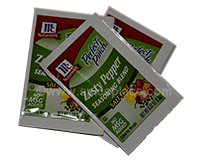 Ingredients: Onion, Spices (Black Pepper, Chili Pepper, Parsley, Celery Seed, Basil, Bay, Marjoram, Oregano, Paprika, Thyme, Red Pepper, Coriander, Cumin, Mustard, Rosemary), Garlic, Orange Peel, Corn Syrup Solids, Carrot, Citric Acid, Tomato, Red Bell Pepper, Lemon Juice Powder and Oil Of Lemon.

Net Weight: 10oz 300g
Tiered Product Pricing
Quantity
Description
Price
Each
Unit Price
$58.93USD
6
6 or More
$55.49USD
24
24 or More
$53.67USD
Perfect Pinch® is a registered trademark of McCormick and Company, Hunt Valley, MD 21031
McCormick Perfect Pinch Zesty Pepper Seasoning Blend
Nutrition Facts
500 servings per container

Serving Size:

1 Packet (0.02oz) 0.6g

Amount Per Serving
Calories
0
Calories From Fat: 0

% Daily Value*

Total Fat 0g
0%

Sodium

0mg

0%

Total Carb

0g

0%

Protein

0g
*Percent Daily Values (DV) are based on a 2,000
calorie daily diet. Your daily values may be higher
or lower based on your calorie needs.
McCormick Item Code:
901210147
Product Ingredient Lists and Nutrition Facts, when provided, are for your convenience. We at Spice Place make every effort to insure accuracy of the ingredients listed. However, because manufacturers may change formulations, persons with food allergies should always check actual package label.