Stoneridge Orchards Whole Dried Blueberries, 14oz 391g
Blueberries are an "Anitoxident Powerhouse and Visionary Fruit." and are abundant in anti-oxident, ellagic acid, and high soluble fiber. Studies have shown that Blueberries help reduce cholesterol and neutalize free radical damage to cells and tissues that can lead to cataracts, glaucoma, heart disease and cancer.
Stoneridge Orchards Dried Blueberries are sweet tasting and always good for you!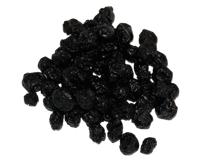 At Stoneridge OrchardsTM all of the fruit and berries are freshly hand picked from the finest orchards and farms in the world. The fruit is then carefully infused and dried at their beautiful Pacific Northwest state of the art facility.
Stoneridge Orchards is always committed to bringing you the best tasting all natural gourmet dried fruit and berries that nature has to offer. It is in that spirit that all of their fruits are dried without any sulfites, preservatives, hydrogenated oils, artificial colors or flavors.
Enjoy the fresh sweet taste of Stoneridge Orchards dried fruit and berries year round. Eat by the handful as a healthy snack, or add to your breakfast cereal, salad, dessert, or as a terrific addition in baking your favorite recipe.
Allergy Information: Always Read Package Label. Processed in a facility which uses peanuts and other nuts.
Ingredients: Blueberries, High Fructose Corn Syrup, Malic Acid, Sunflower Oil, Natural Blueberry Flavor, Citric Acid.

Net Weight: 14oz 397g
Product Ingredient Lists and Nutrition Facts, when provided, are for your convenience. We at Spice Place make every effort to insure accuracy of the ingredients listed. However, because manufacturers may change formulations, persons with food allergies should always check actual package label.