Product Recipes
Recipe: Old Bay Crab Cakes
Recipes using Old Bay Seasoning
Price Each: $12.72USD

Old Bay Crab Cake Ingredients

2 slices dried bread, crusts removed
2 tablespoons milk
1 tablespoon mayonnaise
1 tablespoon Worcestershire sauce
1 tablespoon McCormick Parsley Flakes
1 tablespoon baking powder
1 teaspoon McCormick Old Bay Seasoning
1/4 teaspoon salt
1 egg, beaten
1 pound fresh lump crab meat
To make Old Bay Crab Cakes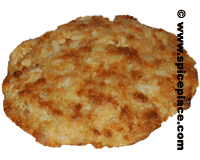 Break bread into small pieces and moisten with milk.
Add Worcestersire sauce, parsley flakes, baking powder, Old Bay Seasoning, Salt, egg, and crab meat. Gently mix so as to keep as much of the lump crab meat together as possible.
Shape Old Bay Crab Cake mixture into patties.
Broil or fry the prepared Old Bay Crab Cakes until golden-brown on both sides.
More Crab Cake Resources