McCormick Cinnamon Sticks, 8oz 226g
McCormick Cinnamon Sticks come from the bark of a small tropical evergreen tree native to the tropics including Southeast Asia, Sri Lanka, Java, Egypt, West Indies, Madagascar, and Brazil. The tree grows to a height of 30 to 45 feet.
Cinnamon Sticks are chunks of the dried back of the tropical evergreen tree Cinnamomum verum, while ground cinnamon is finely ground pieces of Cinnamon Stick. Cinnamon bark itself is harvested from 2 year old sprouts of the tree. The bark is stripped from sprouts, and upon drying the bark curls into rolls... [Read more about Cinnamon Sticks]
Use Cinnamon Sticks as stirrer in coffee, teas and other hot drinks such as spiced apple cider. Cinnamon Sticks are also used to season Asian soups, stews, chili, and as a dessert topping.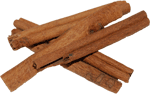 This is a large container of McCormick Cinnamon Sticks. It's packaged in bulk PET plastic container.
Ingredients: Whole Cinnamon Sticks.

Net Weight: 8oz 227g.
Tiered Product Pricing
Quantity
Description
Price
Each
Unit Price
$30.69USD
6
6 or More
$29.77USD
24
24 or More
$28.89USD
McCormick Item Code:
900210226
Product Ingredient Lists and Nutrition Facts, when provided, are for your convenience. We at Spice Place make every effort to insure accuracy of the ingredients listed. However, because manufacturers may change formulations, persons with food allergies should always check actual package label.