McCormick Sesame Seeds 18oz (1lb 2oz) 510g
McCormick Whole Sesame Seeds are the dried, oval-shaped seeds of the herb Sesamum indicum. The plant is a tall straight growing annual with deeply veined, ovate leaves and pink or white flowers. Sesame seeds are generally described as having a mild, nutlike flavor that intensifies when toasted. The flavor of Sesame seeds is characterized by nutty, oily, green, and bitter flavors.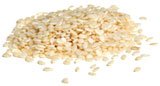 McCormick Sesame Seeds adds a nutty flavor to foods. Sesame Seeds are used to add texture and flavor to a variety of breads, rolls, crackers, and salad dressings. Use sesame seeds as part of a marinade for Asian flavor for meals. Lightly toast sesame seeds in a frying pan and sprinkle over top of salads. Add Sesame Seeds to melted butter and used to top steamed vegetables.
Suggestions for using McCormick Sesame Seeds:
For great roasted sesame flavor, toast in skillet 3 to 5 minutes or until lightly browned.
Add 1 tablespoon to 1 cup bread crumbs for coating chicken or pork chops.
Sprinkle on top of biscuits or bread before baking.
Sprinkle over chicken or beef stir-fry.
Ingredients: Sesame Seed.

Net Weight: 18 oz 510g
Tiered Product Pricing
Quantity
Description
Price
Each
Unit Price
$11.20USD
6
6 or More
$10.88USD
24
24 or More
$10.56USD
McCormick Item Code:
900950547
Product Ingredient Lists and Nutrition Facts, when provided, are for your convenience. We at Spice Place make every effort to insure accuracy of the ingredients listed. However, because manufacturers may change formulations, persons with food allergies should always check actual package label.