Old Bay Seasoning 50lbs 22.68kg
Old Bay Seasoning is a Chesapeake Bay area favorite. McCormick's Old Bay Seasoning is legendary for its use on seafood, it tastes great with many other foods. Old Bay Seasoning is used in hundreds of crab restaurants in Maryland and Virginia. In fact, we doubt if there is a crab house in Maryland that doesn't have Old Bay Seasoning on the table. Old Bay Seasoning is a must for blue crabs and great on shrimp, chicken, french fries, even hash browns. Old Bay Seasoning is packaged in a heavy duty polyethylene bag inside of box.
Other sizes available: (More at bottom of page) Old Bay Seasoning in 24oz (1.5lb) package plus Old Bay Seasoning 7.5lb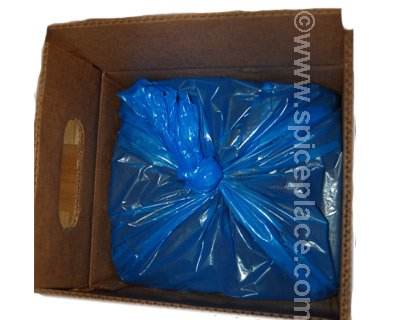 Ingredients: Celery Salt (Salt, Celery Seed), Spices (including Mustard, Red Pepper, Black Pepper, Bay [Laurel] Leaves, Cloves, Allspice [Pimento], Ginger, Mace, Cardamom, Cinnamon), and Paprika.

Net Weight: 50lbs 22.68kg
Old Bay® is a registered trademark of McCormick and Co., Inc. Hunt Valley, MD 21031
Old Bay Seasoning
Nutrition Facts
Serving Size: 1/4 tsp (0.6g)
Servings Per Container: about 37,769
Amount Per Serving
Calories 0
Calories From Fat 0
% Daily Value*
Total Fat 0g
0%
Sodium 140mg
6%
Total Carb 0g
0%
Protein 0g
*Percent Daily Values (DV) are based on a 2,000
calorie daily diet. Your daily values may be higher
or lower based on your calorie needs.
1f5a