Tones Peppercorn Melange, 16oz 454g
Tones Peppercorn Melange has been discontinued by Tones Bros. and is no longer available. We suggest the alternate peppercorn blend: McCormick Peppercorn MelangeTM as a replacement item.
Mezcla de Pimientas
Tones Peppercorn Melange - Whole Peppercorns in a peppermill blend
This potent blend of black, white, green, and pink peppercorns seasons wherever black pepper would normally be used and adds its unique taste. Freshly ground pepper adds zip to eggs, steaks, salads, potatoes, vegetables, and soups.
Pepper comes from the fruit of a tropical vine that is widely grown in tropical regions. The fruits are harvested and dried, and the dried fruits are called peppercorns.
Black pepper is the most common pepper used in cooking and comes from unripe green berries of the vine. After being harvested the berries are processed and dried to produce the black peppercorn. White pepper comes from the same berry as black pepper except the ripe fruits are soaked in water for about 7 days and then the dark outer husks of the berry are removed leaving a white peppercorn. As with white peppercorns, green peppercorns come from the same fruit as black pepper and are processed differently to retain the green color. Pink peppercorns come from the fruits of a South American tree, the Peruvian pepper tree Schinus Molle.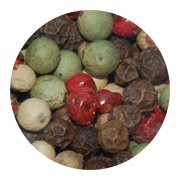 Ingredients: Black Peppercorns, White Peppercorns, Pink Peppercorns, Green Peppercorns.

Net Weight: 16oz 454g
Product Ingredient Lists and Nutrition Facts, when provided, are for your convenience. We at Spice Place make every effort to insure accuracy of the ingredients listed. However, because manufacturers may change formulations, persons with food allergies should always check actual package label.