Lawry's Garlic Salt 33oz 793g
Lawry's Garlic Salt is a blend of coarse ground salt, dehydrated garlic and parsley.
Enhance the flavor of your favorite foods with Lawry's Garlic Salt, a premium blend of special coarse-ground garlic and salt. It tastes as fresh as it looks.
Lawry's Garlic Salt - Cooking Ideas
Shake on chicken, fish, steaks, and chops.
Liven up hamburgers and meat loaf.
Sprinkle on tomatoes and salads.
Sprinkle on sauteed vegetables.
Enhance soups, marinades, and sauces.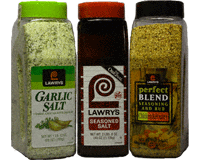 Get our Lawry's Seasoning Collection. The collection contains Lawry's Seasoned Salt, Lawry's Perfect Blend Seasoning and Rub, and Lawry's Garlic Salt.
Sodium Per 1/4 tsp (0.9g) serving: 240mg
Ingredients: Salt, Garlic, Modified Food Starch, Sugar, Parsley, Partially Hydrogenated Vegetable Oil (Cottonseed and Soybean), Carrot Oil (for color) and Garlic Oil.

Net Weight: 33oz 793g
Tiered Product Pricing
Quantity:
Description
Price
Each
Unit Price
$11.93USD
6
6 or More
$11.15USD
24
24 or More
$10.30USD
Lawry'sTM is a registered trademark of Lawry's Foods Inc, Monrovia CA 91016

1f50