McCormick Dutch Poppy Seed, Whole 20oz 566g
McCormick Poppy Seeds are the dried, kidney-shaped seeds of the annual Papaver somniferum. The seeds are very small in size, slate blue in color, and are nutlike in flavor. Poppy Seed is generally described as possessing a pleasant, crunchy, nutlike flavor and aroma.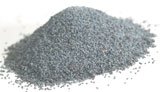 Poppy Seeds are widely used to season breads, rolls, bagels and crackers. Use Poppy Seeds as a salad topping, and in salad dressings. Poppy Seed is sold in the whole form as a topping for breads, rolls, cakes, and cookies. Toasting or baking the Poppy seeds brings out the nutty flavor and crunchy texture. Poppy Seed butter is delicious over rice, noodles, fish, and many vegetables such as green beans, new potatoes, etc. Crushed Poppy seed yields a tasteless, pale yellow oil that can be used in salads. Poppy Seeds are widely used in Hungarian and Scandinavian cooking.
Ingredients: Whole Dutch Poppy Seeds.

Net Weight: 20 oz 566g
Tiered Product Pricing
Quantity
Description
Price
Each
Unit Price
$17.13USD
6
6 or More
$16.64USD
24
24 or More
$16.15USD
McCormick Whole Dutch Poppy Seed Item Code:
932431
Product Ingredient Lists and Nutrition Facts, when provided, are for your convenience. We at Spice Place make every effort to insure accuracy of the ingredients listed. However, because manufacturers may change formulations, persons with food allergies should always check actual package label.