McCormick Caraway Seed, Whole 16oz (1 lb) 453g
McCormick Whole Caraway Seeds have a pleasantly sweet but slightly biting flavor and an aromatic, spicy aroma. The small, tannish-brown Caraway seeds have a flavor similar to a blend of dill and anise - sweet but faintly sharp. Caraway Seed is the dried fruit of the herb Carum carvi.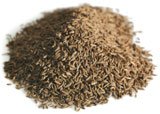 McCormick Whole Caraway Seeds are used as a spice in breads especially rye bread. McCormick Whole Caraway Seeds are used as seasoning of pastry and bread doughs, cabbage, sausage, rice and some kinds of cheese. Add 1 teaspoon to 2 cups cornbread batter. Add 1 to 2 tsps to 3 cups potato salad.
A sprinkling of ground Caraway enhances tastes of most of the root vegetables. Caraway has a special affinity with potato dishes. Caraway is widely used in cookies, cakes, applesauce, vegetables, soups, cabbage, sauerkraut, stews, marinades. meats and noodles. The use of Caraway as a seasoning is important in German, Austrian, Russian, Eastern European, Scandinavian, Caribbean, and Hungarian cooking.
Ingredients: Whole Caraway Seed.

Net Weight: 16 oz 453g 
Tiered Product Pricing
Quantity
Description
Price
Each
Unit Price
$22.47USD
6
6 or More
$21.93USD
24
24 or More
$21.31USD
Sauerkraut Special Recipe
Combine 16oz of sauerkraut, 1 teaspoon caraway seed and 1 1/2 teaspoons McCormick Minced Onion. Bring to a boil, reduce hear and simmer for 5 minutes.
McCormick Item Code:
932426
Product Ingredient Lists and Nutrition Facts, when provided, are for your convenience. We at Spice Place make every effort to insure accuracy of the ingredients listed. However, because manufacturers may change formulations, persons with food allergies should always check actual package label.