McCormick Coriander Seed 11oz 311g
McCormick Coriander Seed is from the plant Coriandum sativum. The herb Coriandum sativum is of the parsley family and, therefore, related to other herbs such as caraway, anise, fennel, and cumin. The leaf of the plant is also used as the herb Cilantro.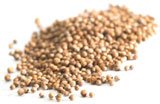 The warm, sweet, orange-like aroma of the Coriander Seed makes it one of the most memorable and versatile of all the spices. Coriander has an affinity for mint and cumin and blends well with fruit juices, especially lemon, for use in marinades. Coriander seed is an important flavoring herb in Mexican, Caribbean, Indian, North African, Middle Eastern, Indonesian, and Latin American cuisines.
Ingredients: Whole Coriander Seed.

Net Weight: 11oz 311g
Tiered Product Pricing
Quantity
Description
Price
Each
Unit Price
$18.88USD
6
6 or More
$18.34USD
24
24 or More
$17.80USD
McCormick Item Code:
932317
Product Ingredient Lists and Nutrition Facts, when provided, are for your convenience. We at Spice Place make every effort to insure accuracy of the ingredients listed. However, because manufacturers may change formulations, persons with food allergies should always check actual package label.