Zatarain's Liquid Shrimp and Crab Boil Case of 4 x 1 Gallon
Zatarain's Liquid Crab Boil is a special blend of seasonings that gives you great tasting seafood every time without any guesswork.
Zatarin's Liquid Shrimp and Crab Boil is great for adding flavor excitement to other foods including hot dogs, fresh corn-on-the-cob, corned beef and ham. Just use the proportions as for boiling shrimp. Or add a few drops in red beans, gumbo, gravy or marinades.
Directions for Using Zararain's Shrimp and Crab Boil -- Shake Well Before Using
For a dozen crabs or five pounds of shrimp or crawfish
Add 2 1/2 quarts of water to a large pot.
Add 5 tablespoons of salt. Bring to a rolling boil.
Add crabs, shrimp or crawfish and 1 tablespoon of Zatarain's Liquid Shrimp and Crab Boil.
Bring back to a boil and then turn off heat (for crabs - continue to boil for 2 to 5 minutes, depending on size, before turning off heat).
Allow seafood to soak as below:
Shrimp: 2 to 5 minutes.
Crabs, Crawfish: 30 minutes.
Drain carefully and serve.
Flavorful Tips
Add 2 tablespoons of vinegar to cooking water adds flavor and makes crabs easier to pick.
Add more or less Crab Boil and Salt to taste.
Longer soak time results in spicier flavor.
Scale recipe size for larger and smaller quantities of seafood.

WARNING:Contains hot pepper extract. Avoid contact with eyes.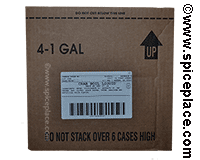 Ingredients: Water, Polysorate 80, Extracts of Red Pepper, Bay Leaves, Cloves, Black Pepper, Thyme, Marjoram and Artificial Spice Flavors.
Tiered Product Pricing
Quantity
Description
Price
Each
Unit Price
$127.87USD
3
4 or More
$124.91USD
9
12 or More
$121.96USD
Zatarain's Item Code:
Z14516
Product Ingredient Lists and Nutrition Facts, when provided, are for your convenience. We at Spice Place make every effort to insure accuracy of the ingredients listed. However, because manufacturers may change formulations, persons with food allergies should always check actual package label.