McCormick Grill Mates Hamburger Seasoning, 24oz 680g
From McCormick's Grill Mates line comes Grill Mates Hamburger Seasoning. Grill Mates Hamburger Seasoning is a special blend of herbs and spices that mix with ground beef to make great tasting hamburgers. With Grill Mates Hamburger Seasoning, all you need to do is mix the spices with some ketchup and combine with lean ground beef. You'll end up with great tasting burgers whether barbecued, broiled or pan fried. Grill Mates Hamburger Seasoning is the easy way to delicious meals.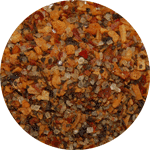 Ingredients: Salt, Spices, Onion, Red Bell Peppers, Sugar, Garlic, Grill Flavor (From Partially Hydrogenated Soybean and Cottonseed Oil), Natural Flavor and Sulfiting Agents.

Net Weight: 24oz (1lb 8oz) 680g
Tiered Product Pricing
Quantity
Description
Price
Each
Unit Price
$29.87USD
6
6 or More
$28.89USD
24
24 or More
$27.93USD
No MSG Added.
Recipe: All American Burgers
Ingredient
4 Servings
24 Servings
Lean Ground Beef
1 lb.
6 lbs.
Ketchup
1/4 cup
1 1/2 cups
McCormick Grill Mates
Hamburger Seasoning
1 tbsp.
6 tbsp.
Worchestershire
Sauce
1 tsp.
6 tsp.
Cheddar or
American Cheese
4 slices
24 slices
Cooked Bacon
8 slices
24 slices
Hamburger Rolls
4 rolls
24 rolls
Mix ground beef, ketchup, Grill Mates Hamburger Seasoning, and Worchestershire sauce in a bowl.
Shape into 1/4 pound patties
Grill patties over medium heat 4-6 minutes per side or until burgers reach an internal temperature of 160°f.
Top each burger with a slice of cheese about 1 minute before cooking is done.
Toast rolls on grill for about 30 seconds.
Serve burgers with bacon slices on the toasted rolls and garnish with pickles, ketchup, and mustard.
McCormick® and Grill Mates® are registered trademarks of McCormick and Company, Hunt Valley, MD 21031.
McCormick Grill Mates Hamburger
Nutrition Facts
about 850 servings per container

Serving Size:

1/4 tsp (0.8g)

Amount Per Serving
Calories
0
Calories From Fat: 0

% Daily Value*

Total Fat 0g
0%

Sodium

110mg

5%

Total Carb

0g

0%

Protein

0g
*Percent Daily Values (DV) are based on a 2,000
calorie daily diet. Your daily values may be higher
or lower based on your calorie needs.
McCormick Item Code:
900953922
Product Ingredient Lists and Nutrition Facts, when provided, are for your convenience. We at Spice Place make every effort to insure accuracy of the ingredients listed. However, because manufacturers may change formulations, persons with food allergies should always check actual package label.