McCormick Cumin Seed, Whole 16oz 453g
McCormick Whole Cumin Seed has a flavor characterized by a strong, musty/earthy flavor that also contains some green/grassy notes. So cumins' flavor and aroma are strong and slightly bitter. Cumin is the dried seed of the herb Cuminum cyminum, a member of the parsley family. The yellowish-brown seeds of cumin resemble caraway yet the flavor will remind Americans of the flavors of the Southwestern US.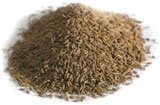 Cumin is an seasoning used in the Mexican, Spanish, Indian, North African, the Middle Eastern, Indonesian and Latin American cooking.
Ingredients: Whole Cumin Seed.

Net Weight: 16oz (1 pound) 453g
Tiered Product Pricing
Quantity
Description
Price
Each
Unit Price
$28.93USD
6
6 or More
$27.88USD
24
24 or More
$27.25USD
McCormick Item Code:
932318
Product Ingredient Lists and Nutrition Facts, when provided, are for your convenience. We at Spice Place make every effort to insure accuracy of the ingredients listed. However, because manufacturers may change formulations, persons with food allergies should always check actual package label.