McCormick Anise Seed, Whole 18oz 510g
McCormick Whole Anise Seed, with its warm licorice and mildly fennel-like flavor, was once thought to be a charm against bad dreams and evil-eye. Anise is popular in liqueurs and candies, anise is also known as a digestive aid. French chefs use anise extract to flavor eclairs. Italian bakers know anise to be the secret ingredient in biscotti (using only the seeds or extract as ground anise quickly loses flavor).
The culinary description is that anise is distinguished by its strong licorice-like flavor and aroma. The flavor of the anise seeds is characterized as minty, piney, and fruity. Anise's flavor resembles fennel but is somewhat sweeter. Anise is the dried ripe fruit of the herb Pimpinella anisum. The tear-shaped seeds are unmistakably identified by their distinctive licorice-like flavor.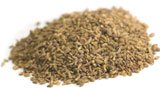 Anise Seed should be purchased only in the whole form because anise loses its flavor very quickly once it is ground. Use anise seed either whole or crushed, in cakes, breads, cookies, beverages, soups, stews, fruit salads, dressings, sauces, and with fish or shellfish. Anise is essential in Oysters Rockefeller and excellent when used in orange sauce for chicken or duck. Anise is widely used in Italian and Indian cooking.
Ingredients: Whole Anise Seed.

Net Weight: 18oz (1 lb 2 oz) 510g
Tiered Product Pricing
Quantity
Description
Price
Each
Unit Price
$37.27USD
6
6 or More
$34.95USD
24
24 or More
$33.81USD
McCormick Item Code:
932632
Product Ingredient Lists and Nutrition Facts, when provided, are for your convenience. We at Spice Place make every effort to insure accuracy of the ingredients listed. However, because manufacturers may change formulations, persons with food allergies should always check actual package label.