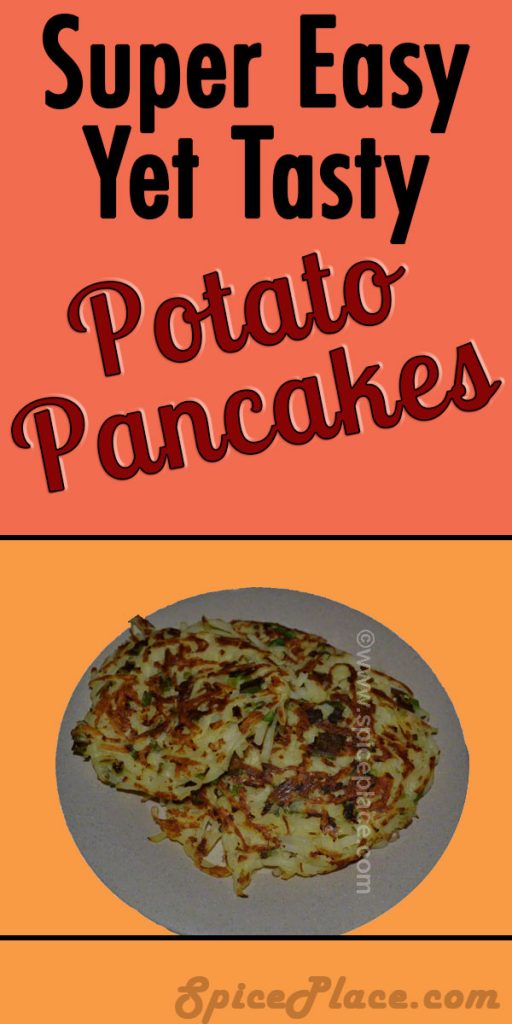 This dish is an excellent change of pace from mashed or baked potatoes as a side dish for pork chops, roasts and hamburgers. We used to make this recipe with fresh potatoes by peeling, shredding, and ringing out the excess water. That's a lot of work and there are a couple obstacles to avoid. First, you have to have some McCormick Anti-oxidant on-hand to keep the shreds of potatoes from browning. All of those thin slices of potato brown almost immediately after shredding unless the Anti-Oxidant is used. It's citric acid, just like in the OJ you drink, but without the flavor. Second, because you have to put those shreds of potato into the Anti-oxidant mixture, they get really wet and it's really difficult to get rid of the excess water. And, the excess water makes it difficult to get the potato pancakes to form properly – they'll fall apart while cooking.
So, we found the trick (aka cheat) to making delicious, well formed, simple to make Crispy Potato Pancakes is to cheat a little, and buy the Simply Potato Hash Brown Potatoes in the dairy section of your grocery store. The peeling is done and there is no extra water. This makes our recipe for Crispy Potato Pancakes a snap. From start to finish in about 10 to 15 minutes, just about the same time to cook those pork chops and a vegetable to square out your lunch or dinner. Plus these Potato Pancakes keep well in the refrigerator after being cooked and make an excellent leftover. Just zap them in the microwave for 20 seconds or so to warm them up.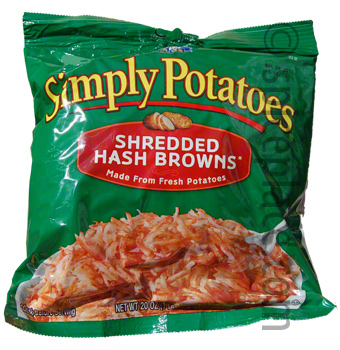 Recipe for Easy Crispy Potato Pancake
1 store bought package of Simply Potatoes Hash Brown Potatoes
1 egg
1/2 cup white flour
1/2 cup chopped scallions or onion [we prefer scallions as the green tops add some color]
---
Combine the scallions and potatoes in a large bowl.
Sprinkle the flour evenly over the potatoes and scallions (or chopped onion).
Beat the egg in a small bowl and pour over the potato mixture.
Mix well by hand. Latex or nitrile gloves work well as the mixture is sticky and sticks to your hands.
Form into 4″ pancakes about 3/8 – 1/2″ thick. Place formed potato pancakes on wax paper.
Heat a large lightly greased (with heart healthy olive or canola oil) non-stick skillet add 2 to 3 potato pancakes, depending on the size of your pan (ours pictured is about 14″ in diameter).
Cook over medium heat for 3 – 4 minutes (until lightly browned, lift and peek underneath if required).
Cook an additional 3 to 4 minutes.
Remove to a warm plate and cover to keep warm while cooking a second batch.
Serve plain, with low fat sour cream, ketchup or season with Old Bay French Fry Seasoning.
Makes six 4″ potato pancakes.
---
Just placed in pan to cook:
---
After being flipped once, note the browning is "just right."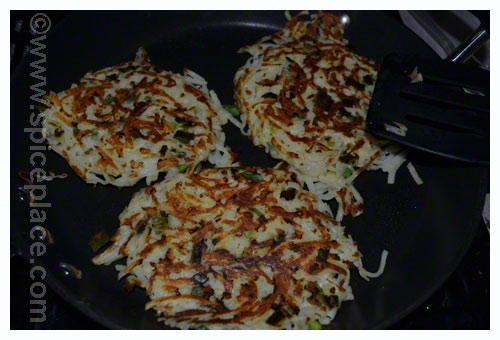 Ready to serve: