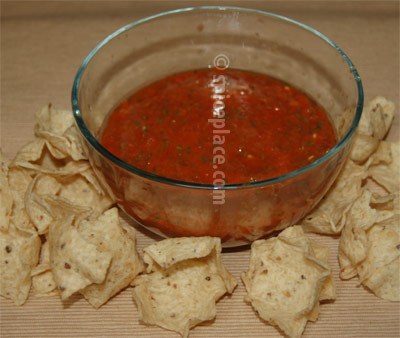 Break out that rarely used Waring Blender to make this quick and easy Salsa for your chips. This recipe is an absolute ease to make. No cutting and dicing just a couple whirls of the blender does the trick.
Here's what you need:
2 Medium/Large Fresh Vine Ripe Tomatoes
1 Large Red Onion
1/2 bunch Fresh Cilantro
Grill the tomatoes and red onion until blackened. Use care with the tomatoes because they will become soft as they cook. Handle the tomatoes with tongs and have a plate handy when you pick them up because if the tomatoes become too soft they might fall apart. So you may find it best to simply roll the tomatoes from the grill to the plate instead of risking the consequences of having the tomato fall through the grill.
Now place the tomato, red onion and cilantro in a Waring Blender and blend on high speed until the Salsa is chopped fine. Quite simply and delicious. Serve immediately with your favorite potato, tortilla, Doritos, or Tostitos chips. Refrigerate unused portion.