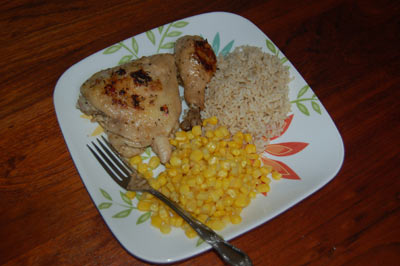 Here's a recipe we cooked up the other day that (we feel) was unique, tasty and wholesome. We thought we'd experiment around with Italian Seasoning and ended up with something we'd never have thought of. The result was sensuous … Italian Seasoning mixed with Lawry's Seasoned Pepper along with the citrus flavor from Lime Juice. Try this recipe. It's a keeper.
1 Pound Chicken Parts (your favorite)
1 tbsp Italian Seasoning
2 tsp Lawry's Seasoned Pepper
1/2 cup Lime Juice
In a large skillet place 1 tbsp olive oil. Add chicken pieces. Season with Italian Seasoning and Lawry's Seasoned Pepper. Add 1/2 of the lime juice. Simmer. Cover and cook. Turn occasionally to cook chicken thoroughly — about 20 minutes. Add the remaining lime juice and cook, turning often to season, for another 5 minutes.
Note: It's important that the chicken is cooked through to an internal temperature of at least 165° F. Use a meat thermometer to verify the chicken is done.