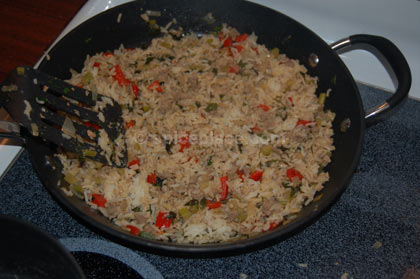 This is an excellent recipe for Cajun Dirty Rice and what's quite remarkable about it is that is had no seasonings in it. Plus, there is no added salt — it's in the chicken stock already. We used this recipe as a base for the Spicy Old Bay Shrimp Recipe that we wrote about yesterday. This is truly a great taste treat. Be sure to spoon some of the extra sauce from the pan the Old Bay Shrimp was cooked in. The two recipes have flavors that simply complement each other.
3 tbsp butter
1/2 cup onion, diced
1/2 cup celery, diced
1/2 cup red bell pepper, diced
1/2 cup poblano chile pepper, diced
2 tsp Gilroy Farms minced garlic (jarred)
1/2 pound cooked chicken livers, chopped fine
1 1/2 cups chicken stock
4 cups cooked Basmati rice, cooked
1/2 cup fresh chopped parsley
Cook the rice and chicken livers* while chopping the vegetables. Melt the butter in a large skillet, then add the onion, celery, red bell pepper, poblano chile pepper and parsley. Cook, stirring frequently, for 5 – 8 minutes until vegetables are tender.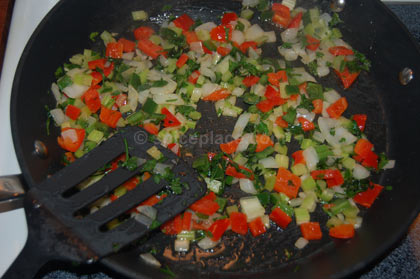 Add the minced garlic, and turn up heat. Add 1/2 of the chicken stock. Let reduce by half, then add other 1/2 of chicken stock. Again, cook until stock has reduced by half — this doesn't take very long, only a minute or two. Make sure you boil the stock enough. You want a little juice but not so much that you make the rice soggy.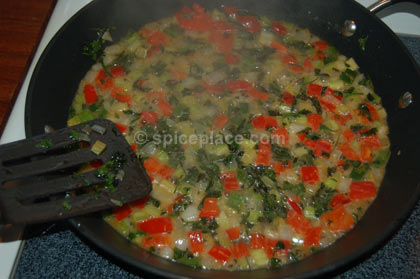 To wrap up this dish, reduce heat, add the rice, and mix in well (this is 4 cups of rice so make sure you choose the right size skillet. Ours in the picture is 14″ in diameter.) Finally, add the finely chopped chicken livers and stir to mix well.
Cooks Note: We use Gilroy Farms minced garlic whenever recipes call for fresh garlic. Gilroy Farms minced garlic has a creamy texture and we find that we have a more garlic flavored taste than when we use chopped fresh garlic. We suppose that's because of the very fine mince the Gilroy Farms garlic has — this might be reproducible using a food processor — but it's so much easier to open up the jar and get delightful results everytime!
*Cooking Chicken Livers
We cook the chicken livers in a pan of boiling water for 10 minutes, then drain them and cool them by placing the cooked chicken livers in a wire mesh strainer and running cool tap water over them. Chop the chicken livers very fine (1/8″ crumbs) with a flat bladed knife.