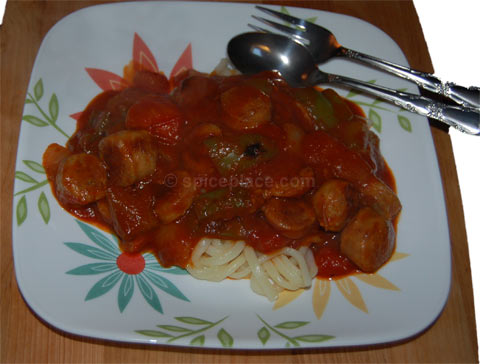 There are lots of ways to make Italian sauces and pastas. A favorite or ours, and of lots of folks we know, is Spatini Italian Sauce Mix. Up until a few years ago, Spatini was available in the local grocery store. Nowadays, Spatini is only available in bulk foodservice size pouches, which we offer here at Spice Place.
1 Pound Lean Italian Sausage (or Turkey Italian Sausage)
1 can tomato sauce
1/2 cup water
1/2 cup diced onion
1 tbsp Spatini Seasoning
Your favorite pasta
Cook the Italian Sausage until done, then slice into 3/8″ to 1/2″ pieces. Set aside.
In a saucepan, cook the onions until tender, then add the Spatini, tomato sauce, and water. Return to a boil, and add the sausage. Mix well and serve over your favorite pasta.
Serve with Garlic Bread.
Author: Matthew Schroebel