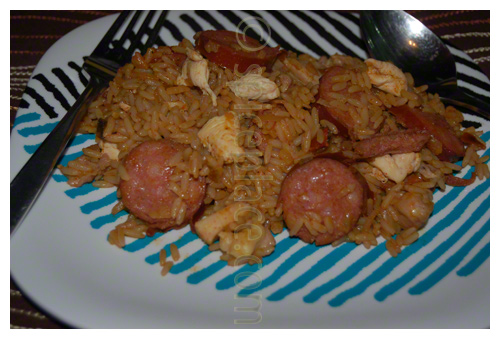 Zatarain's NEW Lower Sodium Jambalaya Mix is rich and tasty and has less salt to boot. This Jamablaya Mix has only 410mg sodium per 1/2 cup serving. Plus it's another one pan meal from Zatarain's. This recipe is for a family size stovetop meal.
A note about Andouille Sausage. We used packaged Hillshire Farms Andouille Sausage which is not too hot. Some Andouille Sausages have a lot of heat, so if you are using another type of Andouille that you are not familiar with, it's wise to test the sausage flavor after cooking and before adding the rice mix. You might have to cut the quantity of Andouille back if it's really spicy.
2 Cups Water
1 tbsp butter
1 Cup of Hillshire Farms Andouille Sausage thinly sliced
1 Cup of Boneless Skinless Chicken Breast (or Thigh), cut up into 1/2″ chunks
In a very large skillet, cook the chicken and Andouille Sausage until done.
Add 2 cups of water and butter, cover, and bring to a boil.
Meanwhile mix the Jamabalya Mix together well, and measure out 1 cup. Seal remaining mix in a reclosable plastic bag.
Add the Jamabalya Mix to the sauce pan, stir well. Return to a boil, then cover and simmer for 20 to 25 minutes (until water has absorbed). Remove from heat and let sit for 5 minutes. Fluff the mix and serve.
Author: Matthew Schroebel