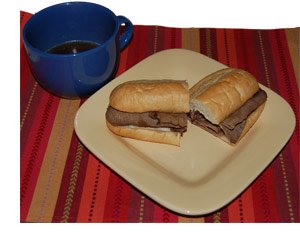 Okay, it's a week night. You just spent an hour in rush hour traffic. You want a simple, easy meal, that's ready in a jiffy. Our recommendation would be a French Dip Sandwich made with McCormick Au Jus mix. Of course, you'd need to have 3 items on hand: Au Jus gravy mix, sandwich rolls, and sliced beef.
The French Dip Sandwich was created in the 1920's in Los Angeles, California when a roll was accidently dropped in to the Au Jus gravy. The customer said it didn't matter, and took the sandwich anyway. The next day they came back and asked for the same sandwich and thus was born an American classic sandwich.
Don't let the French name lead you on to the idea that this is a gourmet meal. It's really just a roast beef sandwich served with a side bowl of Au Jus to dip the sandwich in. But it's still a great sandwich and is loaded with flavor. Usually the French Dip Sandwich is served with a side of French Fries or French Fried Onion Rings.
This is a recipe for French Dip Sandwiches that we've been making for ages. As we said in the lead paragraph, it's really a great recipe for a busy week night. That's because it's easy to make, and tastes great.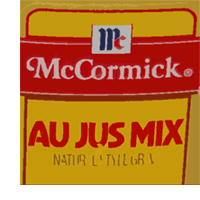 Recipe for French Dip Sandwiches
3 cups prepared McCormick Au Jus Gravy Mix, make according to directions on package
1/4 pound sliced roast beef lunch meat per sandwich
Submarine sandwich rolls
Make Au Jus gravy mix according to package directions.
Add sliced beef to Au Jus gravy to heat the beef.
Remove beef, and make sandwiches.
Ladle 1/3 to 1/2 cup of Au Jus gravy into bowls to dip sandwiches in.